Scholarships to You
Shefrin & Associates is pleased to assist Scholarships to You (STY), a 501-(c)-3 company, with a new idea.  The link below will bring the reader to a survey that explains the STY board's idea and solicits your feedback.  This may be a very good situation for school owners and operators, and perhaps more importantly, to students at career colleges.
Please take a moment to view this important web survey – it will only take a few minutes.
https://www.surveymonkey.com/r/ScholarshipstoYou90-10
Thanks.
Gainful Employment
We recently attended the APSCU conference in Denver.  It was not well attended and that is a shame because the information provided was valuable….as usual.
Some of the most useful information was in regard to Gainful Employment (GE.)  Unfortunately there was a pall over the group as I think everyone realized that the judge was going to rule against APSCU in the suit filed a few months back.  Momentum seemed to be going against a favorable outcome.  And so it has come to be.
This is a another ridiculous rule or law applied to the private school sector and a handful of programs at community colleges.  As with 90-10 the main victims will be students at career colleges. In 90-10, they end up with higher tuition, exactly the opposite of what the administration claims.  In GE, programs and entire schools will disappear, even if the student votes for the school with his/her feet because it meets his/her needs.  They apparently cannot be trusted to make a decision about their own well being.
If you want to be a hairdresser, you will have far fewer choices.  Same if you want to be a masseuse. In these two programs, and I suppose a few others, much on one's income is from tips and we all know they are not reported at a very high rate.  You know who else knows this?  The IRS and the DOE…..and they don't care in terms of GE regs.  IRS might care in terms of collecting taxes, but they have no skin in the game in regard to GE.  DOE simply doesn't care…..if it kills a good program, oh well!
Interestingly, the DOE will only get a couple of numbers from the IRS, not data to support the numbers.  Thus, not only can the school not challenge the income data, the DOE cannot either, even if they wanted to.  This is America?  Almost unbelievable.
There are rumblings that congress will use the budget process to de-fund GE.  Let's see if members of the house and senate are really willing to use up political chips to help the for-profit sector.  I think they will, but by then the schools will have wasted thousands of dollars and man-hours complying with a law devoid of any positive attributes.
The Senate
Like many observers of politics, I believe we all have to be reminded of the old adage, "be careful for what you ask."  Clearly the for-profit sector of education, and probably some traditional education entities that are suffering under heavy regulatory burden, are pleased that the Senate is now squarely in control of the Republicans.  The rub of course is that Tea Party members of the party want to squash spending under the theory that with proper management, all things governmental can be done more efficiently and better with less money.  Flawed logic in some cases, but probably true in others.
Good article today on the Inside Higher Ed site.  Copy the link: https://www.insidehighered.com/news/2014/11/04/what-republican-led-congress-means-higher-education-policy
It should be noted that the worst of the regulations used to kill or cripple the FP schools is the so called 90-10 law and during the Bush administration, when Republicans had control of both chambers, they didn't fix or repeal that law.  Maybe this time they will.  That would be a big ask for the schools, but there is nothing the now united congress could do better to lower tuition than get rid of that law.  Schools have to raise tuition and expose students to another set of loans so that the school can demonstrate that they get 10% from non-Title IV.  Ridiculous.
In the same arena, with the election results, it is likely that military dollars going to FP schools will not fall under additional attack.  That isn't to say that Republicans are going to turn a blind eye to abuses of vets, nor should they, but they will likely kill any discussion of adding military dollars to the 90 side of the equation.  As it stands, military dollars are critical to many schools in meeting the 90-10 regulation since they are on the 10 side.
Gainful Employment, which goes into effect on July 1, 2015 could be repealed.  The referenced article above says that GE will be unaffected.  Not sure I agree.  Since it is likely to be challenged in court, seems like an easy way for the Republicans to give a poke to the administration and work to limit the GE regulation in some way.  Or they could go the other way and embrace the theory, applying  it more broadly to all college programs, thus limiting funds to liberal arts programs that they likely find to be too fluffy and undefined.  As I said, "be careful for what you ask."
Gainful Employment (Yes, Again)
On October 31, the U.S. Department of Education will publish the final regulations on so-called Gainful Employment regulations after a very long time.  The regulation has yet again evolved – now being one metric.  That metric is the debt-to-income ratio.  The programmatic default rate was dropped, probably to help the default rates of community colleges which apparently limit borrowing so the number of borrowers is low and thus open to large fluctuation in rates.
Here is a simplified chart showing how the debt-to-income ratio works.  The regulation itself is 841 pages long so this is a very simplified chart.  The devil will be in the details.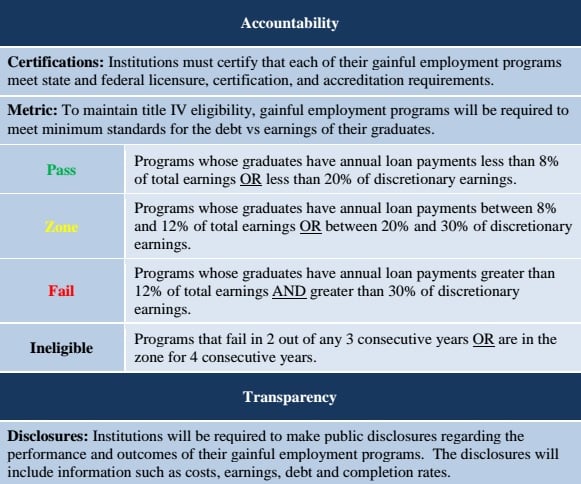 In the end, the DOE predicts 1,400 programs will fail unless they make progress.  I suppose some should fail for being over-saturated, out of date, or never effective to begin with.  I suspect however that many will fail that will hurt the students, the schools, society, the local community, etc.  This is typical government heavy-handedness aimed at the sector of education that is best suited to assist the most needy students.
Latest 90-10 Rates for FP Sector
In previous blog posts I have provided my opinion on the ridiculousness of the so called 90-10 law.  Still ridiculous and if the Democrats keep the Senate, may somehow become even more ridiculous.  It looks like the Republicans will pick up the Senate and retain the House.  They will be far too busy in congress trying to repeal everything they don't like from the first 6 years of the Obama administration to worry about making 90-10 more restrictive.
27 schools are over the limit.  Some of those are closed already for other reasons (this is in addition to Baton Rouge College ID'd in the report) and I know some have been working on solutions to the problem.  There are multiple solutions, but the one near and dear to SA's business is purchasing of a non-Title IV training provider and integrating it into your Title IV school.  Our last three deals have been non-Title IV schools purchased in whole or in part by Title IV operators.  Not all needed 90-10 relief, but the purchase still provides some comfort should growth in Title IV students spring back strongly.
This law should have been repealed by the Bush administration when they had control of the House and Senate.  Instead they let it continue and that should be instructive of what we can expect going forward.  Even with control of the House and Senate, it will likely continue as law.  As I wrote before, it simply shouldn't get more restrictive.  Namely the movement toward counting military dollars as part of the 90 should abate.  The administration may try to push it, but they will have a fight on their hands at every level.  I don't see how they can have the clout to get this done.  Some may take issue with what will happen to the US under the Republican's control of both chambers, and some of the concerns may be justified, but simply from the perspective of the private, market-driven sector of education, it will be helpful to have Democratic leadership on key committees replaced by Republicans as the majority party.
At any rate, here is the link to the narrative provided in regard to the list:  (You can also find the list address in this document)
https://studentaid.ed.gov/sites/default/files/fsawg/datacenter/library/9010Report2014Kline.pdf
The US Department of Education vs. Publicly Traded Schools
I remember clearly when the number of schools that became publicly traded on the stock market began to grow.  I remember because my boss at the time said something like, "this will turn out to be a bad thing for schools in general."   He was a good prognosticator!
By law the number 1 concern of a publicly traded company's board is the shareholders.  As a person with money in the stock market (not much unfortunately), I want them focused on doing what is right for the shareholders.  That is as it should be.  However, when you operate a school, your number one priority is the well-being of the student. There in lies the rub.  There in lies the truth that had my old boss lamenting the movement toward publicly traded schools.
Corinthian will likely not be the last to be unwound by the US DOE.  I feel certain that Arnie Duncan and his counter-part in the Senate, Senator Harkin, are quite pleased that Corinthian will be dismantled in such a humiliating and public manner.  Who is next?  I am sure we can all take our guesses.  Many are being sued by states' Attorney Generals, have Qui Tams against them, or being hammered by the media.  Some are enjoying all of those actions.
What is of course unfortunate, and I have opined this many times in the past, the DOE and democrats in congress have wanted to dismantle these companies for a long time, but have never had the guts to do so….or the money.  Instead they devised 90-10 laws and Gainful Employment regulations in order to trip them up.  If these happen to trip up smaller, better schools, oh well.  The students of these schools do not vote in droves, are generally on the low-socioeconomic scale and therefore do not concern our public servants.
Some schools are bad actors, just like some banks, some lawyers, some Medicare Doctors, some US government agencies, some DOE employees, etc.  But when you take a sledgehammer to the problem, rather than a scalpel, students get hurt.  No one really cares.  The media, Senator Harkin, Arnie Duncan, DOE employees, other members of congress all (nearly all) graduated from traditional universities…..this is where they see value.  I understand, as I too went to a traditional university and wouldn't trade it for anything, but university is not for everyone, especially the students that vote for a for-profit school with their feet.
I know plenty of people who work for one of the brands under Corinthian and most of them are hardworking professionals doing a great job for their students.  What a shame.
Gainful Employment
So the Department of Education, after another flawed Negotiated Rulemaking, has now published the metrics for the 2014 version of GE regs.  The DOE press release included the following:
"The proposed regulations released by the U.S. Department of Education will help to strengthen students' options for higher education by giving all career training programs an opportunity to improve, while stopping the flow of federal funding to the lowest-performing ones that fail to do so."
"Higher education should open up doors of opportunity, but students in these low-performing programs often end up worse off than before they enrolled: saddled by debt and with few—if any—options for a career," said U.S. Education Secretary Arne Duncan. "The proposed regulations address growing concerns about unaffordable levels of loan debt for students enrolled in these programs by targeting the lowest-performing programs, while shining a light on best practices and giving all programs an opportunity to improve."
This all sounds so good….makes me wonder why they don't propose to apply it to all programs of study at all colleges regardless of tax status.  Yes, I am aware that the term Gainful Employment appears in the amended Higher Education Act in regard to the admittance to the Title IV program of what are now called career colleges.  The term Gainful Employment isn't used when discussing funding for traditional education.  So perhaps the department should have focused on that idea.  But that is not what they have done.  The press release is long on discussion of student debt, now estimated at 1.1 trillion dollars.
If they are concerned about student debt, then it follows that they would be concerned about all student debt.  That is not what they are doing because it really is just a lightly veiled attempt to remove profit from yet another endeavor in the U.S.  Now, I don't subscribe to the thought that the administration is anti-American Capitalism, but I do subscribe to the idea that certain areas they see as problematic if left to profit.  Education being one of them.
I have seen schools with (admittedly draft numbers) programs where 1 in 10 students were paying back at least $1 on their loan.  So let's assume that the number is way off and say 4x as many are actually paying at least $1.  That still means only 4 in 10.  That should be unacceptable to the school owner, operator, financiers, staff, faculty and student's themselves.  Perhaps had these groups paid attention to these ideas, the department wouldn't have fought so hard to create these ridiculous rules.
The only more ridiculous rule of course is 90-10, but that was the subject of a previous post.
College Pays
Often in a headhunting firm we follow wage reports and studies with a keen eye.  As we are headhunters specializing in the education sector, reports on wages for college graduates, etc. are of greater importance.  We often see conflicting reports on the value of an eduction.  Anecdotally we all know that all other things being equal, an education has to help us.  Yes there are exceptions, but fewer and fewer I believe.
Now the Pew Research Group has weighed in on the issue.  Per their report the wage gap between college graduates with a bachelor's degree and HS diploma recipients is wider now that at any time in the past 50 years.  As I wrote in an earlier blog entry, people with degrees and experience really aren't unemployed, assuming they want to work.  So this report seems to fit with that observation.
As reported by Hope Yen of the AP, here is the report:
WASHINGTON — The earnings gap between young adults with and without bachelor's degrees has stretched to its widest level in nearly half a century. It's a sign of the growing value of a college education despite rising tuition costs, according to an analysis of census data released Tuesday.
Young adults with just a high-school diploma earned 62 percent of the typical salary of college graduates. That's down from 81 percent in 1965, the earliest year for which comparable data are available.
The analysis by the Pew Research Center shows the increasing economic difficulties for young adults who lack a bachelor's degree in today's economy, which is polarized between high- and low-wage work.
As a whole, high-school graduates are more likely to in poverty and be dissatisfied with their jobs, if not unemployed.
In contrast, roughly nine in 10 college graduates ages 25 to 32 said that their bachelor's degree had paid off or would pay off in the future, according to Pew's separate polling conducted last year. Even among the two-thirds of young adults who borrowed money for college, about 86 percent said their degrees have been, or will be, worth it.
"In today's knowledge-based economy, the only thing more expensive than getting a college education is not getting one," said Paul Taylor, Pew's executive vice president and co-author of the report. "Young adults see significant economic gains from getting a college degree regardless of the level of student debt they have taken on."
The latest findings come amid rising college-tuition costs, which have saddled young adults in the so-called Millennial Generation with heavy debt amid high unemployment. Noting the increasing importance of a college education, President Barack Obama and Republicans such as Sen. Marco Rubio, R-Fla., have pushed proposals to make higher education more affordable as a way to promote upward mobility and bolster America's shrinking middle class.
The report found that not only does a college degree typically yield much more inflation-adjusted earnings than before, but a high-school diploma also is now worth less. That adds to a widening earnings gap that Pew researchers found mirrors the U.S. gap between rich and poor.
For instance, college graduates ages 25 to 32 who were working full time now typically earn about $17,500 more annually than employed young adults with just a high-school diploma ($45,500 vs. $28,000); those with a two-year degree or some college training earned $30,000.
In 1965, before globalization and automation wiped out many middle-class jobs in areas such as manufacturing, the inflation-adjusted gap was just $7,449.
Meanwhile, median earnings for high-school graduates have fallen more than $3,000, from $31,384 in 1965 to $28,000 last year.
Young adults with just high-school diplomas now are also much more likely to live in poverty, at 22 percent compared with 7 percent for their counterparts in 1979.
"Despite their higher levels of college completion, today's young adults overall are doing no better — and on many key indicators of economic well-being, they're doing worse — than older generations were doing when they were the same age that Millennials are now," Taylor said. "This is mainly because the economic penalties for not getting a college degree are so much stiffer now than in the past."
Other findings:
» Young employed college graduates are more likely than those with just a high-school diploma or less to say their job is a career or stepping-stone to a career. In contrast, those with just a high-school diploma or less were three times as likely as college graduates to say their work is "just a job" to help them get by — 42 percent vs. 14 percent.
» The field of study in college does seem to matter. Those who studied science or engineering were most likely to say that their current job is "very closely" related to their college or graduate field of study, at 60 percent, compared with 43 percent for both liberal-arts and business majors.
» About three-fourths of all college graduates say they regretted not doing more during school to better prepare themselves to find a job, such as getting more work experience, studying harder or looking for work sooner.
Pew based its findings on the Census Bureau's Current Population Survey as of March 2013, as well a survey of 2,002 adults interviewed by phone Oct. 7-27, 2013. The Pew poll had a margin of error of plus or minus 2.7 percentage points. 

Adjunct Faculty
As a former college operator I can attest to the struggle to balance the need for full-time faculty against the desire to utilize adjunct faculty.  With the ACA, accreditation pressures, etc. it seems likely that this struggle isn't getting any easier for the colleges and schools.  In the career colleges, one of the advantages of adjunct faculty is their real world experience which can be imparted to students in a short period of time….less theory, more how-it-really-works-in-the-real-world.
A report out today by the Council for Higher Education Accreditation calls for more training and oversight of adjunct faculty.  Colleen Flaherty writes, " Accreditors "can and should be doing more" on site visits and in their standards to address concerns about adjunct faculty employment and its effect on student learning, says a report out today from the Council for Higher Education Accreditation.
"Campuses often do not evaluate the type of support they have in place to help faculty perform to their highest capabilities," the report says. "The negative student learning outcomes [associated with over-reliance on adjunct faculty] that have been documented have occurred in part because institutions have not updated or changed their policies and practices as their faculties have changed."
"However," the report continues, "this issue has not typically been a focus of accreditation visits."
The paper suggests that accreditors meet with adjunct faculty on site visits; include "non-tenure-track faculty" explicitly in references to faculty in accreditation standards; and create guidelines for providing professional development, orientation and mentoring for adjuncts, among other possible initiatives to force institutions to rethink their polices and support for part-time faculty.
"An Examination of the Changing Faculty: Ensuring Institutional Quality and Achieving Desired Student Learning Outcomes," was written by Adrianna Kezar, co-director of the Pullias Center for Higher Education at the University of Southern California and director of the Delphi Project to examine and develop the role of the adjunct faculty; her research assistant, Daniel Maxey; and Judith Eaton, CHEA's president. Its findings are based on a meeting among accreditors and adjunct faculty advocates that took place in July. Its release coincides with CHEA's annual meeting of college and university officials and accreditors, starting here today.
Read more: http://www.insidehighered.com/news/2014/01/28/new-report-urges-more-emphasis-adjunct-faculty-conditions-accreditation#ixzz2riNvBmhc
Inside Higher Ed
In my current role as a partner at Shefrin & Associates this is the type of thing with which I can assist our clients.  I have relationships with extremely talented professionals dedicated to training faculty to be effective facilitators of learning.  This is especially important for your adjunct faculty.
Resume Trends
It has been difficult over the years to keep track of the trends in resume writing.  Everyone has an opinion on what sections should be included, how many pages the resume should have, use of bulleted lists, how accomplishments should be stated, etc.  As a search or headhunter firm, we try to stay abreast and have the added advantage of seeing real life results rather than simply theories.
However, we do try to review the theories as well.  Today, in the Arizona Republic's Job section, there was a brief and interesting article on what is trending in resumes these days.  Here is a reprint:
On "Project Runway," Heidi Klum often declares, "One day you're in, the next day you're out." While she's referring to fashion, the cyclical nature of trends extends to resumes and job-search tactics as well. And if your resume style is out in 2014, you may well be out, too.
To make sure you're keeping up with the trends and away from major resume disasters, check out what's in and what's out in 2014:
IN: Keywords that match job descriptions. Many employers use applicant-tracking systems to screen resumes and generate a short list of candidates. To ensure that your resume makes it through the ATS, use keywords that the employer has associated with the job opening.
OUT: Listing your daily tasks as experience. Instead of using valuable space to tell employers about your basic responsibilities at previous jobs, use the section they're most likely to pay attention to for impressive feats and standout accomplishments.
IN: Creating and using multiple drafts and formats.
Just as no two jobs are the same, no two resumes should be the same. Create multiple drafts and formats for different roles to make it through different application mediums and screening tools.
OUT: Including an objective statement. Replace the 'objective statement' and include a summary of your qualifications at the top of your resume. This offers a more-personal look at you and what you could bring to the job.